Norwegian Greentech AS
Ballast Water Management System
Norwegian Greentech, founded 2010 within MMC group of companies, introduced its new ballast water management system MMC BWMS at the Nor-Shipping in 2011. It works chemical-free based on particle filtration and UV-sterilisation. The best solution when only little space is available.
type-certified / USCG-accepted
small footprint
easy installation
user-friendly
easy to maintain
low energy consumption, approx. 15 kW at max. load
low cost of operation
available ready-made or as single components
capacity from 100 to 1.000 m³/h
no use of chemicals
no drain water to bilge pumps
can be integrated into exsisting automation systems (IAS)
Chemical-free Ballast Water Management System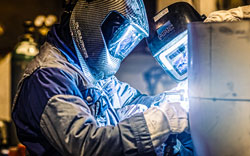 In order to comply with IMO standards a high dose of chemicals is necessary. Critics say that this way of solving one problem just creates another. It also takes quite some time for the chemicals to become effective and requires great logistic efforts.
Thus the advantages of chemical-free treatment are quite obvious as it avoids time delay and no hazardous mate­rial must be stored or handled. It is non-dangerous to the crew and no repeated expenses are to be faced for its operation. A further benefit is that the system forms a part of the vessel.